[ Home ] [ Specifications ] [ Sizing Information ] [ Order Form ] [ Contact Us ] [ Links ]
Hat Size Chart
Use this chart to help determine your hat size. If you are the least bit unsure unsure of your hat size, I strongly recommend visiting a local hat store that carries quality hats. Western wear shops seem to be the most available hat stores these days. Hats that are marked only small, medium or large are not quality hats. Stick with the big name brand hats, those made with beaver fur. Once you think that you have found your size, try out different brands to see if you get differing results.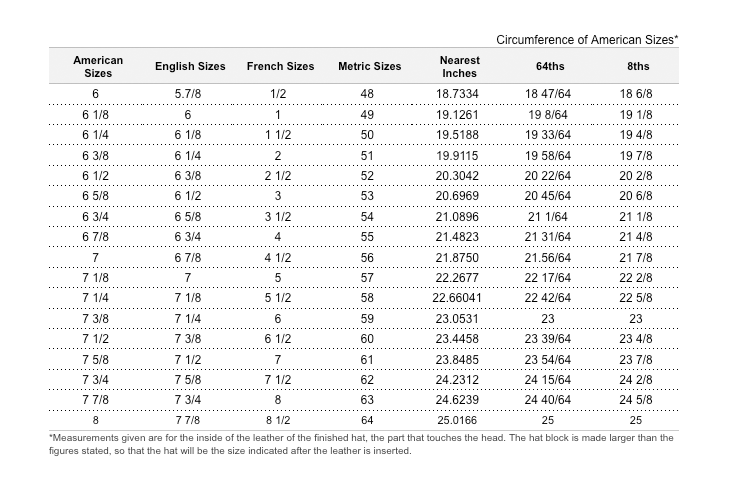 Head shape: In the 1920's some hat makers started to supply hats for heads that were longer or shorter than the typical classic oval dimensions. Following the regular size mark, you may find hats that are marked: LO (long oval) or SO (short oval). If you put on the usual regular oval hat and you find that it pinches you at the front and back, you probably have a LO head. Conversely, if the hat pinches you at the sides, you probably have a SO head. Most hat stores carry just regular oval hats. If you find that you need a LO or SO hat, folks usually just buy a size larger and pad out the sweatband to fit. A hatter can modify the oval, but hatters these days are a little like buggy whip manufacturers, there are not terribly many around.
Please find your correct size before you order. Mailing hats back and forth takes time and can get expensive.

Legging Size Chart
Measure your calf circumference at its largest point.
Measure over the trousers you expect to wear most often.
Keep the measuring tape tight. Leggings should fit snugly.
Lacing adjustment for all sizes is about an inch, i.e. a #3 legging will fit 16"-17" calves.

Size

Height of Legging

Calf Size

Ankle Size

1
14.5"
15.125"
11.375"
2
15.5"
15.5"
11.75"
3
16.5"
16.0"
12.25"
4
16.5"
16.625"
12.875"
5
16.5"
17.375"
13.625"

Please measure just your calf size. The height of 1897 and 1898 pattern leggings is reflected in the chart above. All 1895 pattern leggings are 12.5" tall regardless of size.
---
Copyright © 2003-2012 Eureka Arsenal. All rights reserved.
Revised: January24, 2012 .